What makes Gary Richards Associates different?
Gary Richards Associates (GRA) has specialized in recruiting for the HVAC, Refrigeration, Combustion and Building Automation industries since 1987. All GRA associates work with a common goal of providing the highest quality candidates for our client employers. And, we draw from a database of thousands of individual candidates who represent a virtual who's who of our targeted industries – an advantage few (if any) other recruiters can offer.
You'll only get hand-picked, qualified candidates.
We rely on technology to enable many of our processes, but our screening process is manual. We know our candidates well, because we have personally reviewed them, one-on-one, before we refer them to you. We use our understanding of the industries and companies we serve, including the skills and personality traits candidates must possess, to find and place just the right talent for you. That saves you precious time and gets you moving on to your next business challenge, faster. Your referral will include:
The reasons you should pursue this candidate
The resume itself with any comments we deem helpful
A copy of the questions we asked and answers we obtained in our own interview process.
No surprise, we have a stake in your success.
Should a candidate fail to commence employment, or severance occurs within 90 days after the candidate commences work, with or without cause, we will refill the job for no additional fee, unless we both determine that the position can no longer be filled. So we're careful. In addition to our screening process, we make sure candidates are both reasonable in their expectations and represent a good cultural fit for your organization. They may have done web research on your company and have questions. We help answer those questions and set those expectations before you see them. No surprises.
How we work.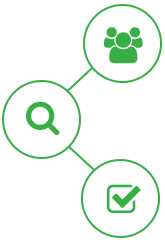 We work with client employers using one of three service models.
Contingency Basis: You'll be invoiced when the candidate is placed, but payment is not due until they start.
Exclusive Engaged Basis: For higher-priority engagements, we'll invoice you an initial $1,000 engagement fee, with the balance invoiced when the new hire starts. This represents the majority of our work.
Exclusive Retained Basis: When we know a search is very sensitive and critical, or will take longer due to a unique position or skill set required, we may request a one-third one-time retainer to conduct the search, with the balance due when the job is filled.
You probably have a detailed job description and requisition ready to go. If so, just email us at jobs@garyrichards.com and attach your documents. Or contact us another way.